2022 DATE ANNOUNCEMENT: We are delighted to confirm IncludFEST will take place on Saturday 17 September, 11:00 – 16:00 at Hardwick Park, Sedgefield.
For 2022 IncludFEST returns to our original format of WATCH IT, BE IT and DO IT occurring in multiple locations across the park.
Further information including a full programme will be published by the end of May on this page as well as social media updates.
For Deaf and disabled children, young people and their families
Since 2015, our annual festival has attracted thousands of visitors each year. IncludFEST is inclusive and accessible to all with a range of exciting activities – you can WATCH IT, BE IT and DO IT across the festival. Thanks to Durham County Council this event is completely free of charge and has be
come a firm favourite in the diaries of many County Durham Residents.
IncludFEST 2021: Final report now available – CLICK HERE TO OPEN

For 2021 IncludFEST returned to Ushaw Historic House, Chapel and Gardens in Durham!! This year,  audience members were invited to come and enjoy a one hour performance event in the beautiful setting of Ushaw College Courtyard. This outdoor space was exclusively for our event and was headlined as the 'best outdoor arts the region has to offer from the safety and comfort of an individual gazebo for your group, a bit like having your own private box at the theatre (but outside!).'
To find out more information about how IncludFEST was both inclusive and COVID-secure, please click the link below to download our access guide.
To check out last year's performances please read on! 
IncludFEST 2020: Making it a (virtual) reality
Although our plans for a live festival this year were not meant to be (see our cancellation statement further down the page), we are delighted to bring you two film versions of IncludFEST 2020 – both featuring optional subtitles and one with full British Sign Language interpretation throughout.
Scroll down to view the full programme and to find the links to both IncludFEST films! 
If you want to read more about what went on behind the scenes, check out our blog post from festival co-producer Jo Turner by clicking here.
Here is last year's programme from amazing local performers: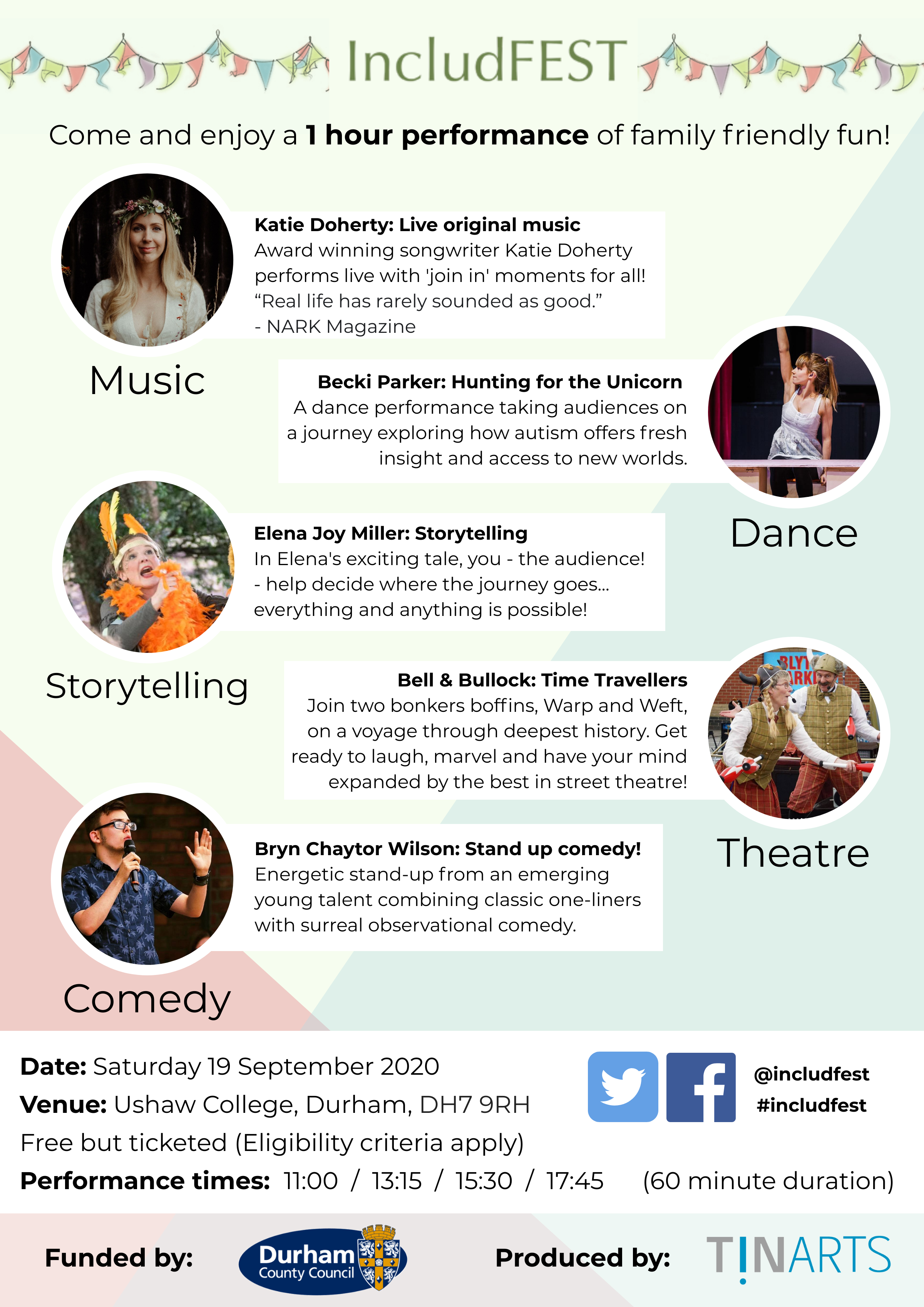 For the latest information and updates please check out our social media pages @IncludFEST