For children, young people and their families
Since 2015, our annual festival has attracted thousands of visitors each year. IncludFEST is inclusive and accessible to all with a range of exciting activities – you can WATCH IT, BE IT and DO IT across the festival. Thanks to Durham County Council this event is completely free of charge and has become a firm favourite in the diaries of many County Durham Residents.
IncludFEST 2020: Making it a (virtual) reality
Although our plans for a live festival this year were not meant to be (see our cancellation statement further down the page), we are delighted to bring you two film versions of IncludFEST 2020 – both featuring optional subtitles and one with full British Sign Language interpretation throughout.
Scroll down to view the full programme and to find the links to both IncludFEST films! 
If you want to read more about what went on behind the scenes, check out our blog post from festival co-producer Jo Turner by clicking here.
17.09.2020: Cancellation of IncludFEST 2020 – statement from TIN Arts (Producers of IncludFEST)
IncludFEST 2020 was planned to take place on Saturday 19 September at Ushaw: Historic House, Chapel and Gardens. The festival is produced by TIN Arts and supported by Durham County Council as part of its Festival and Events programme.
As of Friday 18 September, parts of the North East will come under new restrictions to limit the spread of Coronavirus which apply to seven council areas in the North East including County Durham. The new restrictions include a ban on households meeting others inside or outside of their homes.
From the outset we have been resolutely committed to running an inclusive, fully accessible, safe event working within national and local guidance. All groups attending were designated their own private gazebo to avoid any interactions or mixing with other households. Whilst the new announcement means that guidance has changed, it does not necessarily mean that IncludFEST cannot go ahead. However, with IncludFEST only two days away we need to be 100% sure that our event is in keeping with this newly released guidance and revised restrictions.
We would dearly love to go ahead with IncludFEST but ourselves, our partner venue Ushaw: Historic House, Chapel and Gardens and our key supporter Durham County Council all agree that to proceed on Saturday would require further work and risk assessments to be carried out immediately and the amount of time available to complete the work is extremely limited.
So it is with a sad heart and a great sense of disappointment and frustration from all the partners that we are announcing that IncludFEST 2020 is cancelled. 
IncludFEST is a COVID-secure event. Our plans and risk assessments to keep everyone safe throughout the event were inspected by Durham County Council's Safety Advisory Group and were signed off as meeting all necessary requirements. The IncludFEST team along with key members of Ushaw and Durham County Council colleagues have spent months preparing for this weekend and we have done all we can to try to make sure the event went ahead. We have not made this decision lightly.
TIN Arts as the producers of IncludFEST cares immensely about the people of County Durham with a mission based around using the arts to promote inclusion, fairness and equality. We also prioritise the safety of those engaging in our activities, programmes and events at all times.
We are currently communicating with all those connected to IncludFEST to inform them of the updated news. We also aim to share revised plans very soon about how we can still connect with disabled children, young people and their families digitally making as much of the content we had planned to include in this weekends event available for all to enjoy.
We know this news is disappointing for everyone, but we hope you can understand why this decision has to be made. Safety is and always will be our top priority.
Any questions and enquiries should be directed to Martin Wilson, Director of TIN Arts ([email protected] / 07545 349230).

Here's how we had planned our festival this year… 
How IncludFEST was planned for 2020
With individual gazebos for our audience household or support bubble groups, we had planned for a maximum capacity of 48 audience members per performance. With 4 performances across the day this meant a possible 192 people attending this year's festival and even more online as were due to film and share with our at-home festival goers.
Safety and access are our top priorities – with sanitiser, stewards to guide carefully planned physical distancing and access providers such as a BSL interpreter and Mobiloo, we we ready to go! Sadly, the risk has become too great in our much-loved County.
Here is the programme we had lined up from amazing local performers: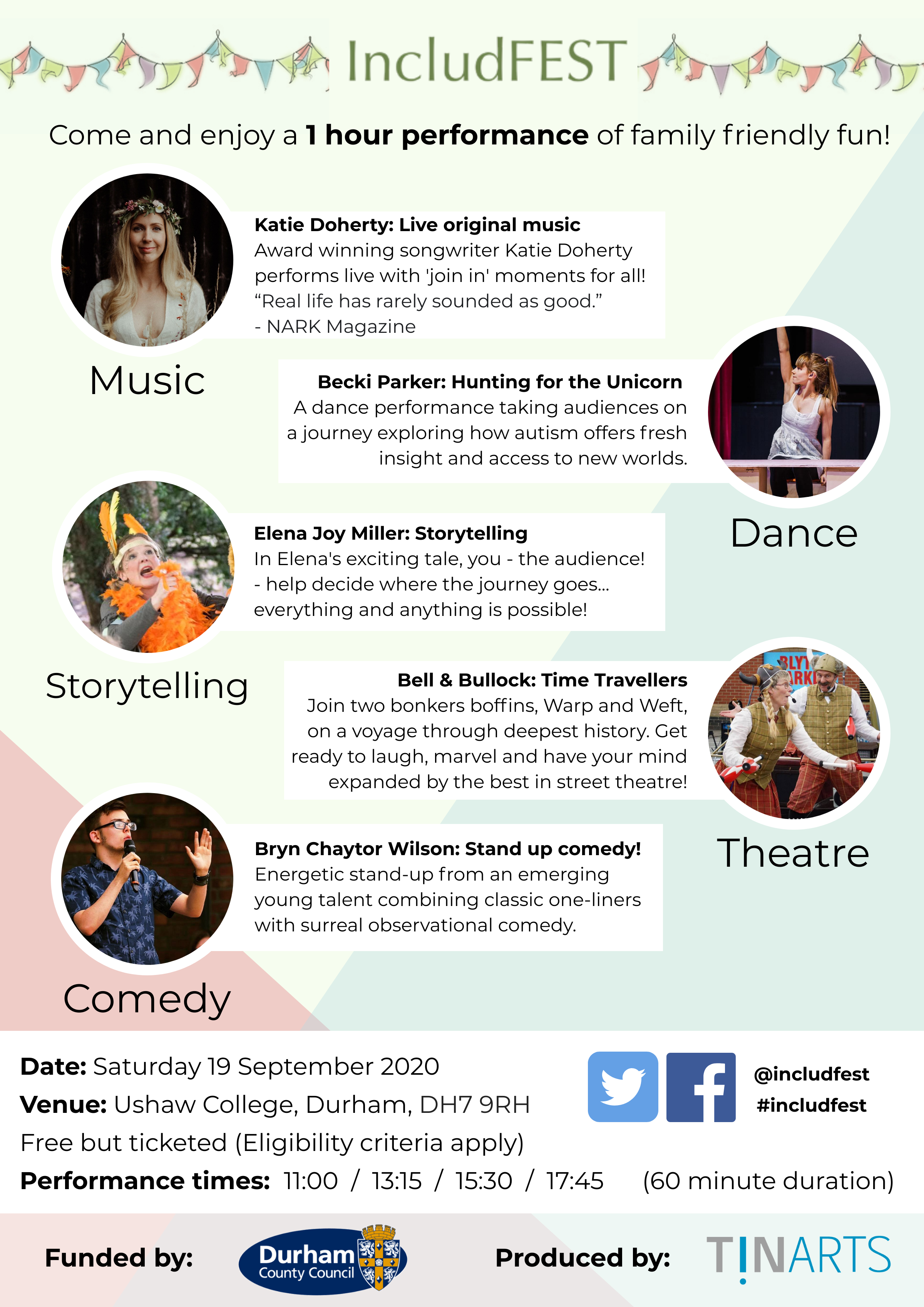 For the latest information and updates please check out our social media pages @IncludFEST